I know I've been off this topic for a while now. Time to get my priorities straight. Get back to what's important.
I went running two days ago. Got in about 5miles. I finished W2D1 of my modified training schedule. - run6min, walk3min, repeat 8 times. Today is supposed to be an 80min tempo run. But I can't do that all at lunch today. Too much stress at work. Long story...
Anyhow, either I go for a shorter run or I can go running after work. Instead, at lunch go to the leisure center. See how busy they are at noon hour. Maybe start to spend my lunch hours there on my "rest" days.
As much as I would love to run every day, I am starting to push my limits. And I'm going to be pushing them really far over the next 18 weeks. I just might be able to make it. But not if I injure myself.
I have heard so much warning about not running every day. Taking a break every second day to let your body recover.
It is hard for me, but I'm trying to make it work. My plan(???) is to try to get my bike out to get my cardio in on my off days. That and start strength training. Ride my bike to and from work. Then to and from the gym. Workout for lunch. Maybe go for a longer ride after work to get the hr up for a while and burn those calories...
Forget try. I just need to decide and do. Period! There's no reason not to. I used to go to the gym on my pedal bike 5 days a week years ago. I loved strength training...
So I guess my lunch plans are made. I'm going to the center to see how busy it will be for the lunch times. I can always adjust my lunch hour to earlier if it's less crowded...
So that's my plan. Guess I'll blog again later with pics.
************UPDATE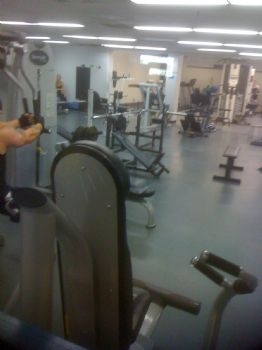 Went to the leisure center. Talked to the ladies at the front desk. Found out that the gym area is usually almost empty between 11 and 12. You can see just how busy it is at 11:40. Nice.
There are more strength machines off to the left of this picture. It's not a huge gym, but it's big enough to have the important stuff. And I won't have to worry about cardio, as I'll ride my bike to the gym from work and back. I think this'll work out great.
I am actually excited to get started. I decided no try. Just do.