Thank God. I didn't miss it.
I've been struggling to stay on track, and have dropped this countdown thread for a while. I've still been running, but struggling and sometimes not doing well at all.
I was so upset today, thinking I'd missed the half way point. Well, I'm back and here to say I didn't miss it after all.
But now I'm not so looking forward to my mid-point check in. I am very discouraged. I was hoping to be at my goal weight or closer to it by now when I started this all and it was only a 100day challenge.
Well, no time to wallow in that. Instead, the half way mark is time to re-evaluate where I am and how to get where I'm going....
Anyhow, that's for tomorrow. Today is Today.
Today I need a kick in the butt to get going. And Yoovie has provided it for me.
If you haven't read her most recent blog, you gotta do it. It's amazing!
Click here to check it out.
www.sparkpeople.com/mypage_public_jo
urnal_individual.asp?blog_id=4349611
Here's my first assignment for the afternoon:
Come up with 50 reasons to not skip a workout AND NOT ONE SINGLE ONE OF THEM CAN INVOLVE HEALTH, FAMILY OR GROWING OLD.
I'm going to do that. My next blog will be that list. I can't wait.
I also love this one
10. AFTER WORKOUT PAMPERING KIT. (go to bath and Body Works or Victorias Secret or something and get an energizing or invigorating bath scrub and bubble bath and lotion. Anything that says ENERGIZE will work. You need to lvoe yourself AFTER a workout, more than at any other time. Get home, lather up, love every curve, caress every muscle, soothe every tendon, be reborn for work or school with bright shiny happy flushed skin and hair and the knowledge that you kicked ass this morning.
I will do that. Not today. But after a week of solid workouts. When I've earned the extra post-workout pampering kit. I sure don't feel I deserve it this week...
I've got the calendar and stickers. I'm going to strive to add more and more.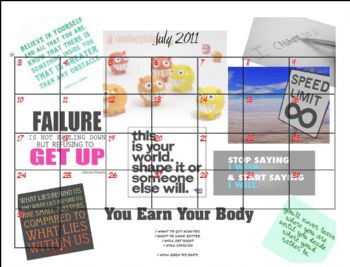 I've got a fitness magazine - Jillian Michaels on the cover. Can't wait to read it. And tear out motivational articles/images.
I'M GOING RUNNING AFTER WORK TODAY! No excuses. It's not too hot today. Yes, it's raining. So what. That'll help cool me down on my run.
Now off to make my list. Catch y'all later...