Yep. You read that right. I'm in two DietBets. One is a 4 weeks to loose 4%. The other is 6 months to loose 10%. They kind of work together. One to keep focused on this month in front of me right now, one to
I figured that blogging is the way to go on this journey.
Anyhow, here are my two most recent weigh ins: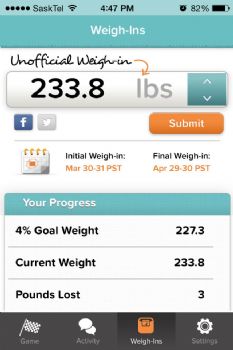 April 4, 2014 DietBet4 Weigh in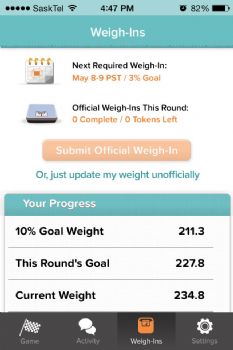 April 6, 2014 DietBet10 Weigh in
Yes, I know my April 6 weigh in was higher than my April 4th. I just haven't brought myself to change my dietBet4 weigh in yet.
I've had a couple of days where it feels almost impossible to get up and off the couch to get any fitness in at all. Now I know why. I'm coming down with a cold. I feel just awful today - sandpaper in my throat, scratchy nose. It really sucks. So I'm drinking more water. I need to remember that lots of herbal tea will help too - it soothes, and the extra fluids/water help flush this out of my system.
Today is a rough day. I'm tempted to graze. That is, to constantly snack on anything and everything I can get my hands on.
I have to admit I have given in a bit. I have had some frozen yogurt with fresh strawberries on top. I also made myself some air popped popcorn(1/4 cup unpopped kernels), lightly spritzed with extra virgin olive oil(through a sprayer - less than 1/4 tsp), and very lightly salted with truffle salt(again less than 1/4 tsp). The popcorn helped with my munchies.
This morning I did get my fitness in - 45min spin class, followed immediately by a 60min BellyFit class. So despite feeling a little under the weather, I was still able to get out and do what I need to do.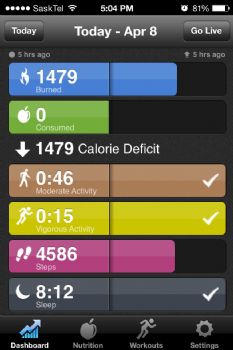 This was my bodyMedia reading right after the fitness classes this morning. Not bad for an 11am readout.
So that's my day.
I've got my fitness in for the day
I'm struggling keeping my nutrition on track
I'm not feeling well
I've had lots of water, but will likely have more because of illness.
I'm just hoping my inactivity for the remainder of the day doesn't affect me too negatively. I guess only time will tell.