Yesterday was a good day. It was my first day back at fitness after being so sick. I was also on track with my water. I ate very low in my calorie ranges - too low in fact. Today I'm planning on eating higher.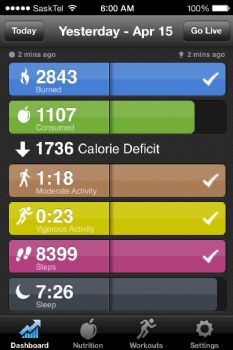 I am also starting to get more sleep. That's good to see. I've been trying to not worry about it. In all honesty though, when you are trying to not worry ...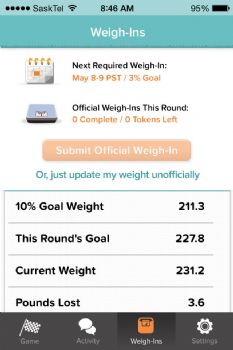 My DietBet10 weigh in progress. I am getting there. Slow but sure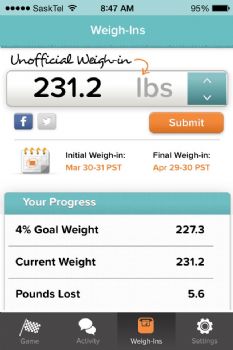 DietBet4 progress.
So for these bets, my deadlines are April 29/30 for the DietBet4, and May 8/9 for the first round of DietBet10. That's two weeks to loose 3.9lbs more and to keep it off for at least a week to win both DietBet4 and round 1 of DietBet10.
That's actually not too bad. Completely do-able.
There are days when I wonder if I can do this. If I'm EVER going to see results. Then suddenly the scale co-operates and I see the progress that helps me to see I actually can do this.
My plan for today:

Drink LOTS of water - it'll help flush out the last of this cold

Eat at least 5 servings of freggies

Find a healthy way to eat at least 1600 calories today - I'm okay with closer to 1800 if I end up that high.
Now for the tough one. I really don't want to do this. I even have excuses to not go out there and do it.

Run.
But I'm running a virtual half marathon on Friday. I'm not sure how smart it would be to push myself today, and then really push on Friday.
I know. It's an excuse. I guess I'm still nervous being so newly over this chest cold. That and seeing the fresh coating of snow over everything outside...
Maybe I can compromise. There is a Step and Abs fitness class at the Leisure Center. I can go right after the Chiropractor this morning. Then leave straight from there for work - I'm taking one of my moms to a baby and me group today. I LOVE hanging out with these two.
Anyhow, if I get in the fitness class. Then maybe a speed walk at the track. It'll count as fitness. I can get in 2 hours worth without pushing myself running so I can rest for Friday.
I think that's the way to go today. 2 hours of moving. Supper is already being planned - tossed salad with grilled chicken breast, and two chicken wings I'll sneak from hubby's plate.
I think I have an awesome plan to tackle today. What's your plan for today?